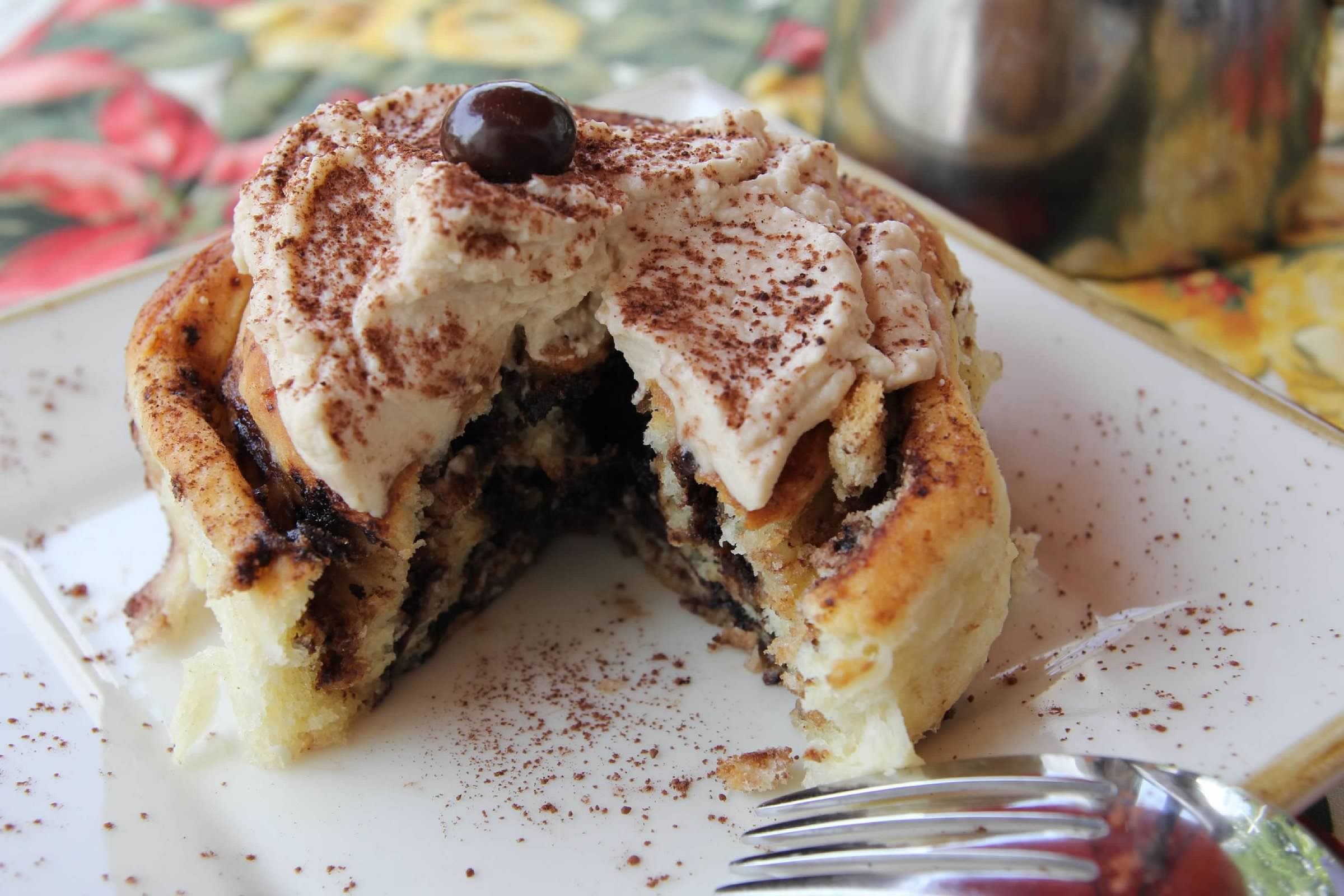 When I say I dreamt of this recipe, I mean it literally! I went to bed one night and rolled these beauties out in my dreams, right before waking I was frosting them and could smell them! I woke up and wrote it down. I googled it to see if anyone had already thought of (or dreamed of) this and didn't see anything. Can it be? So I played with the recipe and yummmmy…..dreams really do come true! The base is The Pioneer Woman's cinnamon roll dough recipe, which is just perfection. The Tiramisu part comes in with the filling and topping of buns….crazy good. While you are on the Pioneer Woman website, check out the way she rolls her rolls!
½ Pioneer Woman Cinnamon Roll Dough Recipe Click here for the recipe.
3 grams Ferrara Instant Espresso Coffee Granules (about 1/3 of jar)
3 oz Bellino Savorardi Lady Fingers, crushed
2 cups white sugar
1 cup butter, melted
Generous sprinkle of cocoa, European-style
500gr Mascarpone
Kahlua to your liking (you can substitute milk & vanilla if you don't want to use liquor)
¼ cup Espresso, brewed
Optional: Chocolate covered espresso beans
1. On a floured surface roll out the dough into a large rectangle until it's thin.
2. Sprinkle 1.5 cups of sugar & plenty of cocoa evenly all over the dough.
3. Sprinkle the crushed savorardi and espresso granules all over as well, top with all the butter. It will ooze, but it will be tasty!
4. Roll the dough into a log starting with the dough further away from you. Again, check out the Pioneer Woman site for an awesome guideline.
5. Cut the log into 1.5"-2" pieces and place into butter round baking dish. Any of the gooey-buttery-mess that is left on counter can be spatula'd right on the top of buns before baking.
6. Bake in a preheated 375 oven for 15-20 minutes until cooked through and golden on top.
7. Allow to cool, in the meantime prepare the frosting. Using a hand held mixer in a medium bowl whisk the mascarpone, ½ cup white sugar, brewed espresso & Kahula until light and fluffy.
8. Frost buns (which should be room temp) with mascarpone frosting, sprinkle more cocoa on top and garnish with chocolate covered espresso bean!