Imported, Local, and Organic/Sustainably-Produced Groceries & Foods. Plus an extensive selection of freshly-prepared foods, available in our markets or for your catered event.
Sandwiches, Pizzas & Salads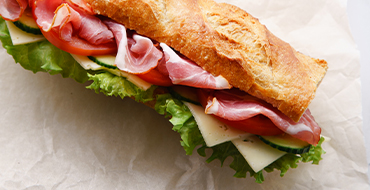 Choose from over 150 sandwiches, pizzas, and salads - all thoughtfully and tastefully crafted by our artisan team of chefs using only the freshest ingredients...and always made to order!
We've partnered with Mercato, a premier third-party grocery ordering and delivery service, to bring Altomonte's Italian Market straight to your doorstep. Ordering couldn't be easier.
Seasonal Favorites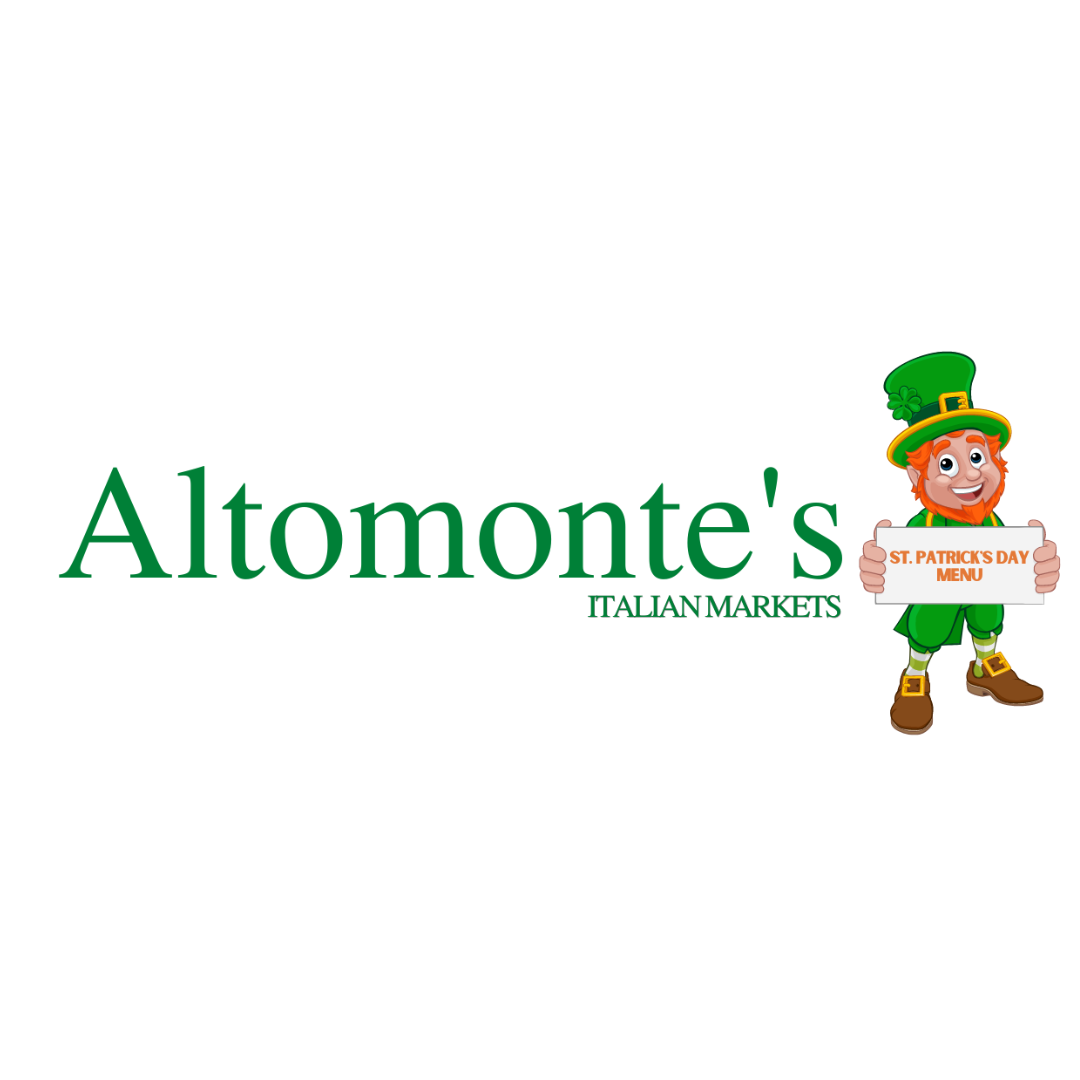 For a Limited Time Only!
We get so excited about celebrating St. Patrick's Day by offering you our delicious, home cooked Irish-style foods and handcrafted meals.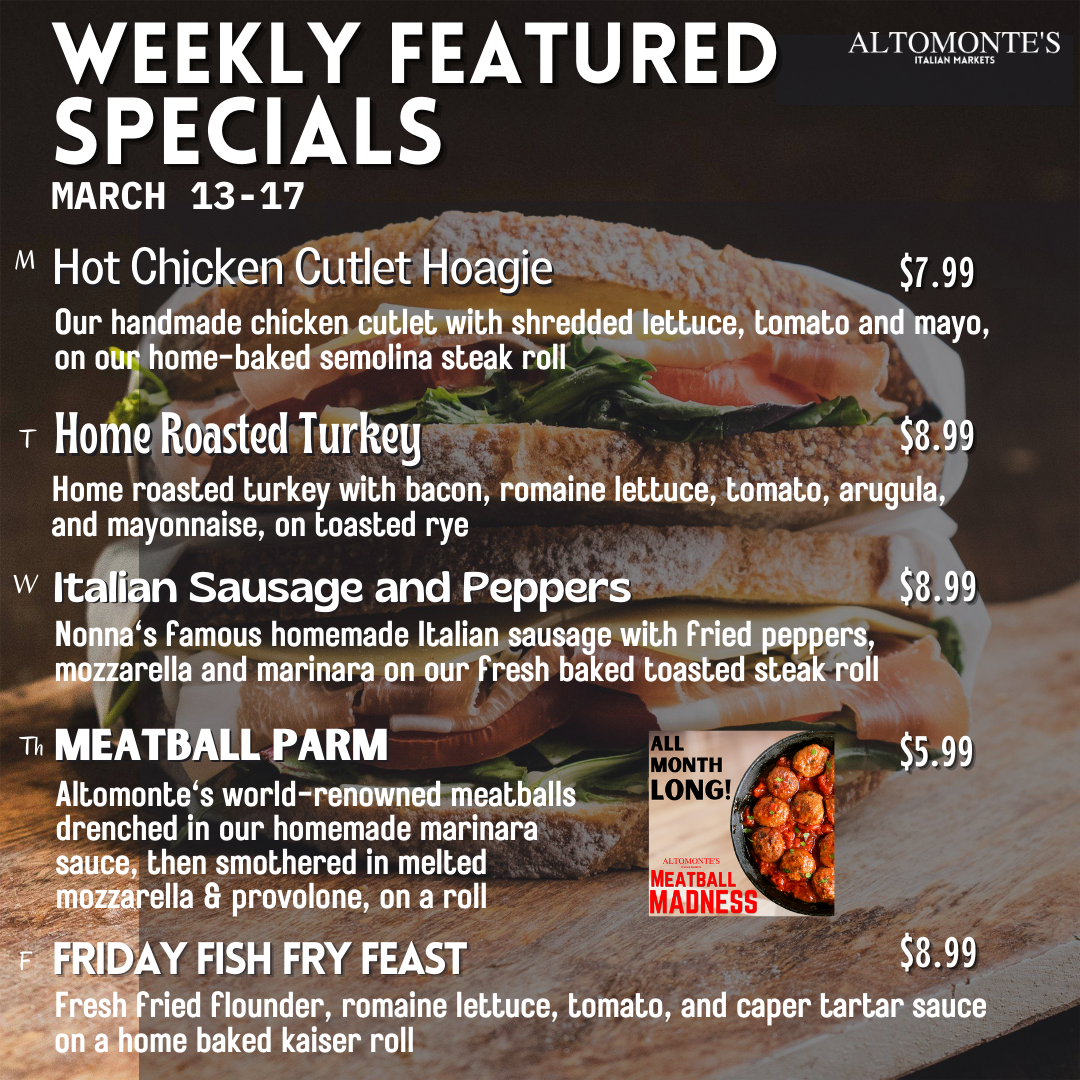 Daily Features
Discover a wide selection of made-to-order, off-menu sandwiches, salads, pizzas, pastas,and more. Each weekday we feature something special!
Order Now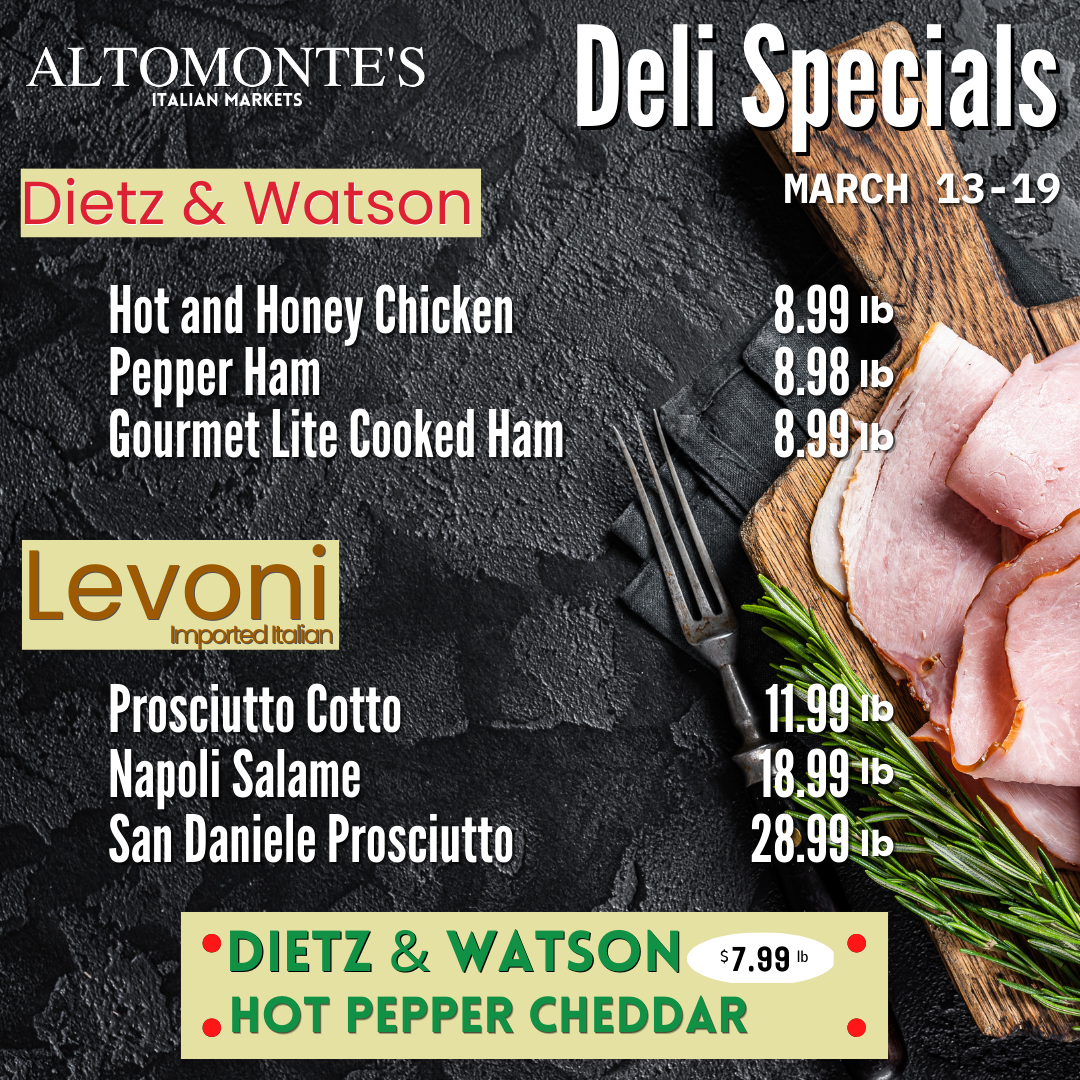 From our Award-Winning Delicatessen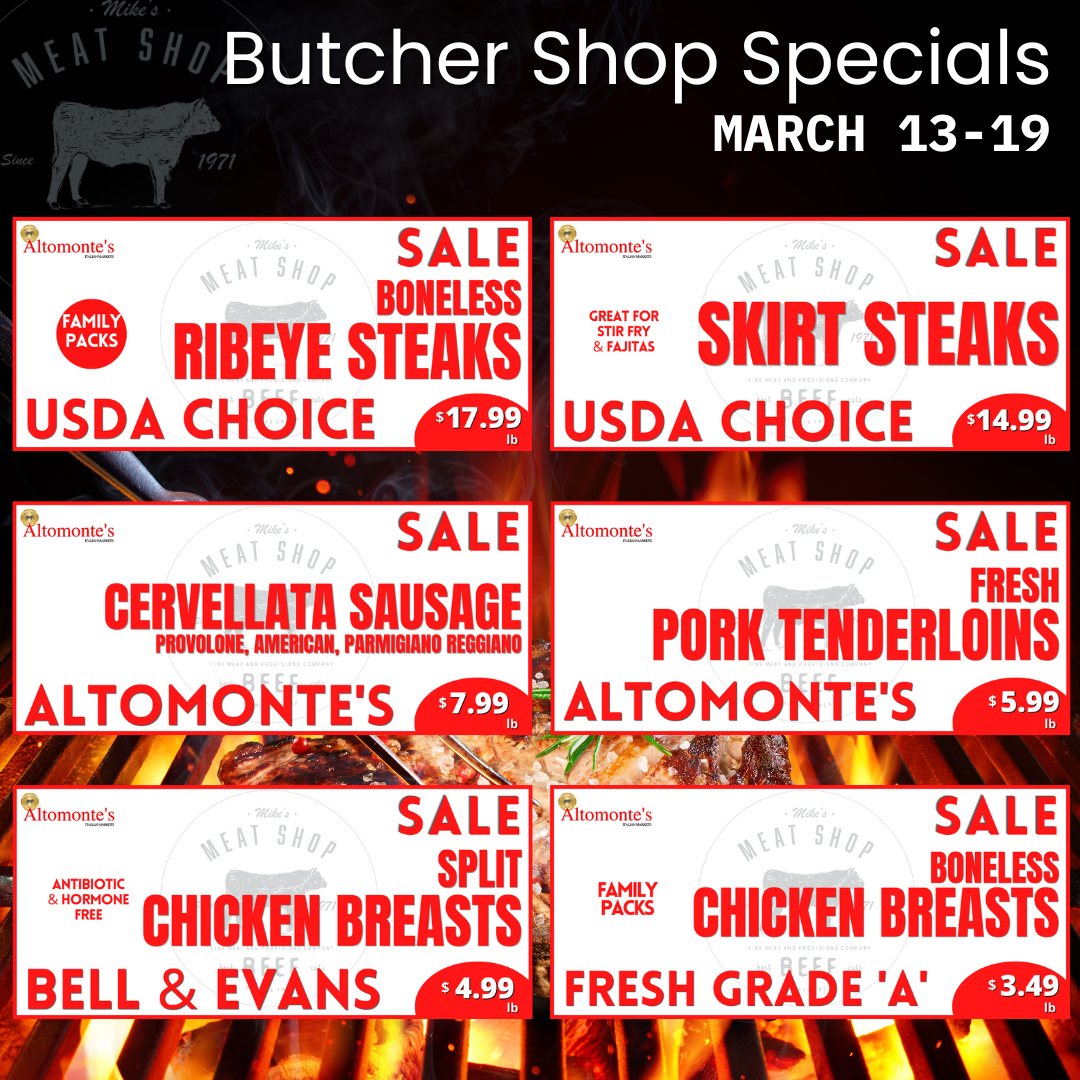 Bucks County's Best Butcher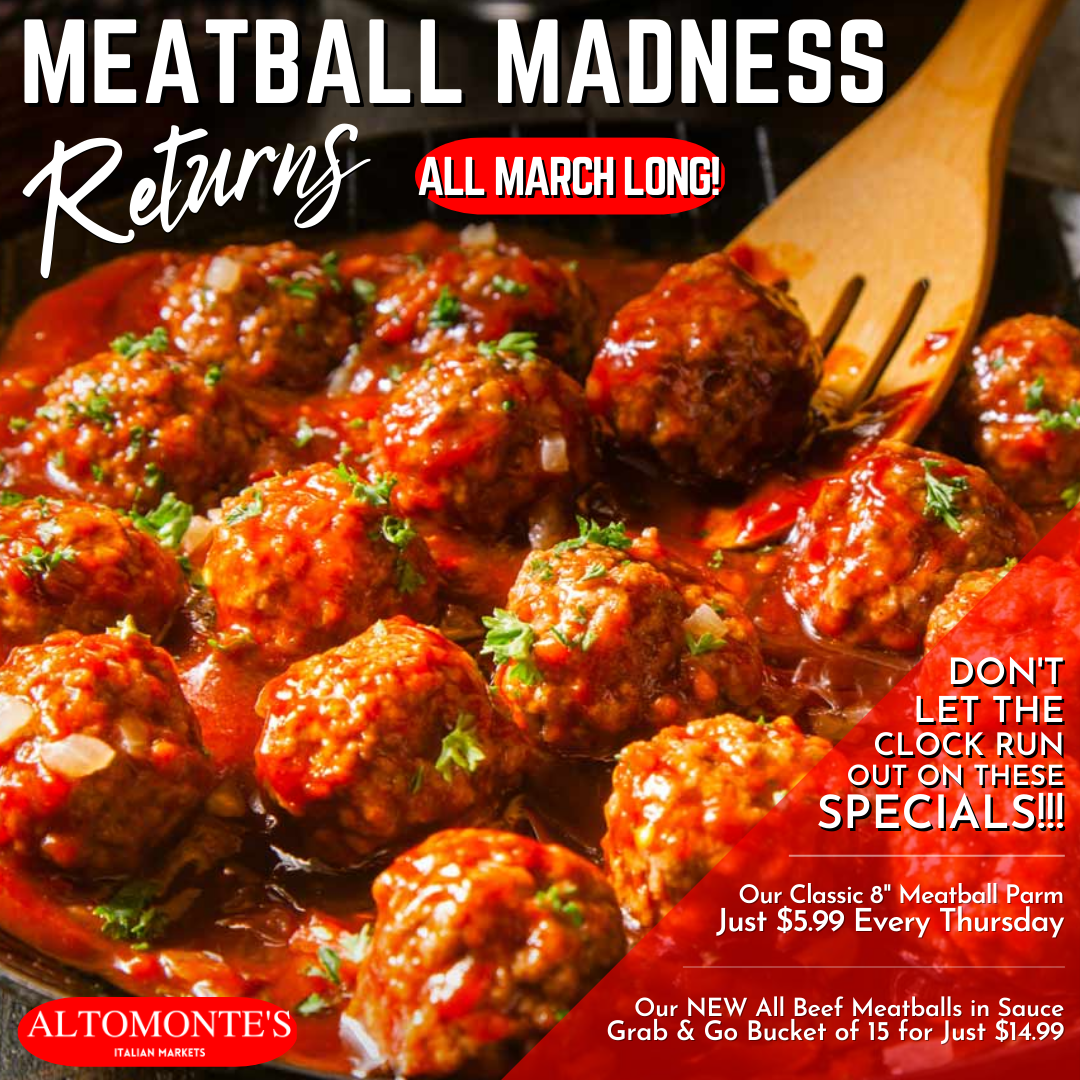 The Madness is BACK!
All March Long – take advantage of these specials and savings!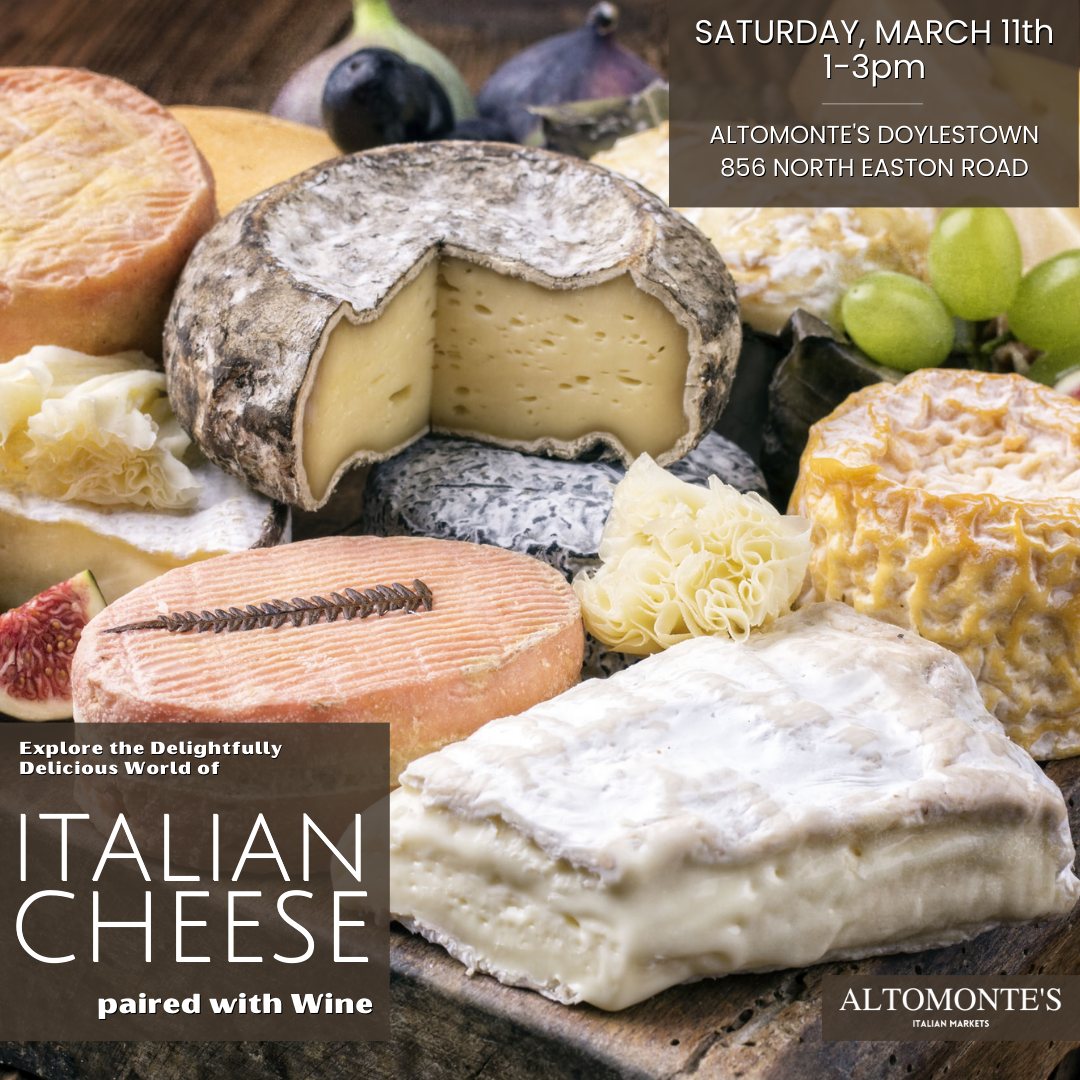 Hurry. Limited Seating.
Did you know that a wide variety of cheeses from Italy are officially recognized and ranked as the Best in the World? TASTEATLAS just released their Top 100 List and Italy took 9 of the first 10 spots!
We invite you to come participate in this wonderful opportunity to enjoy an 8 course cheese tasting paired alongside wines Angelo has carefully chosen for each. Sit back and soak in the wealth of knowledge and passion Sabbia Auriti will share on cheeses, Italian cuisine & culture. And of course, Angelo will guide us through his pairing choices while giving you a deeper understanding as to how to pair your own wine and cheese at home or elsewhere.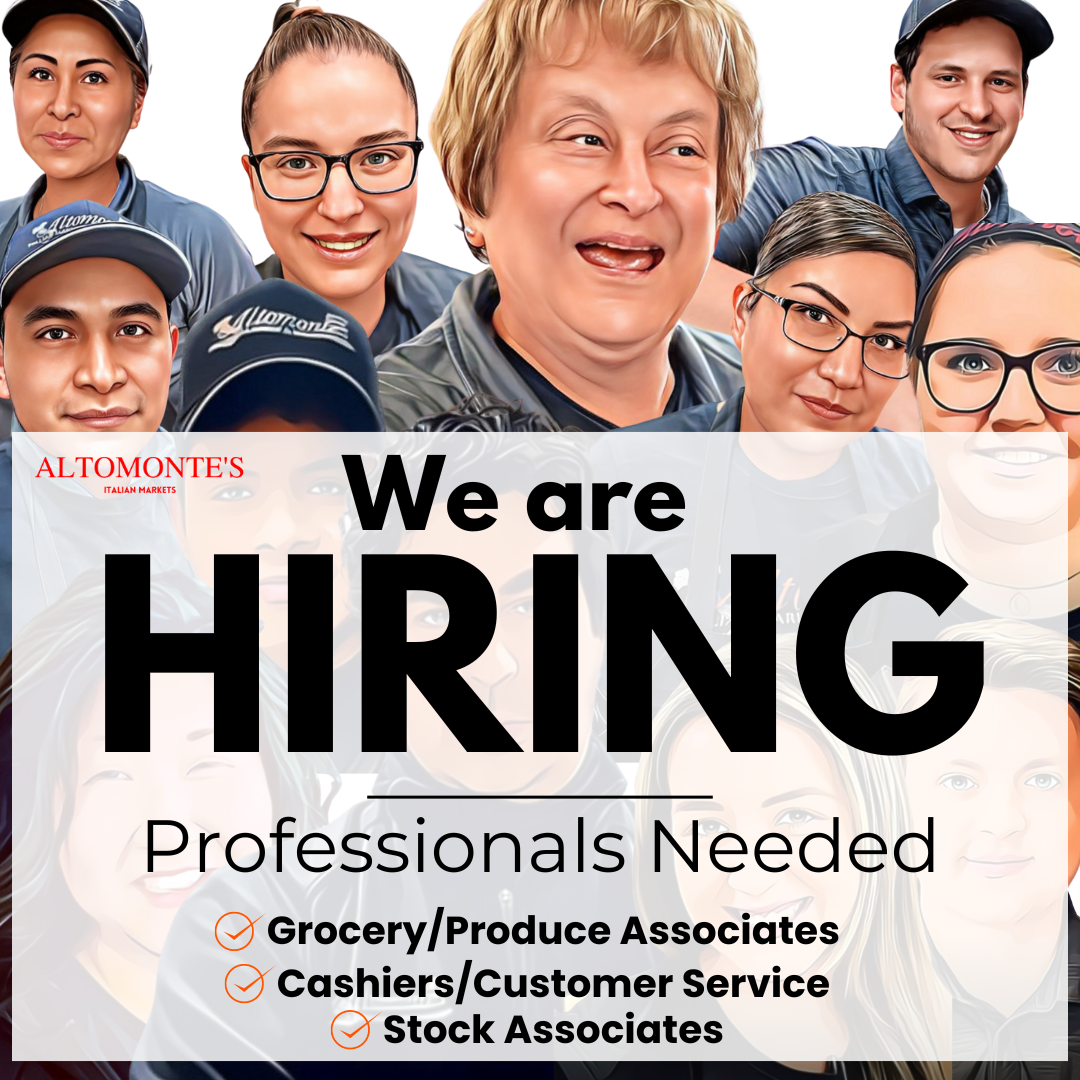 Join our Family!
Flexible scheduling and no late hours.
Scroll to the bottom of this page to find out more and/or apply.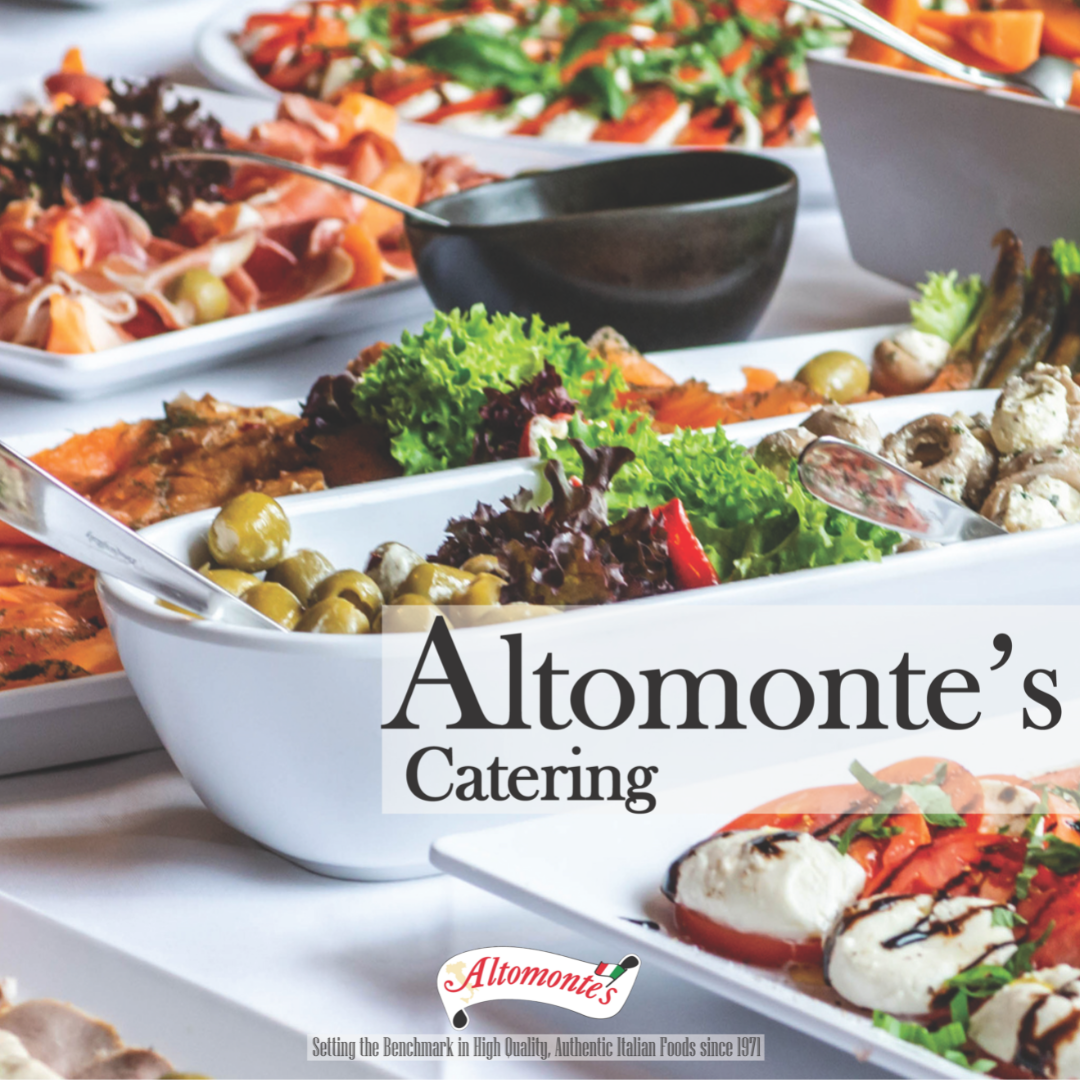 Voted Best Caterers of the Region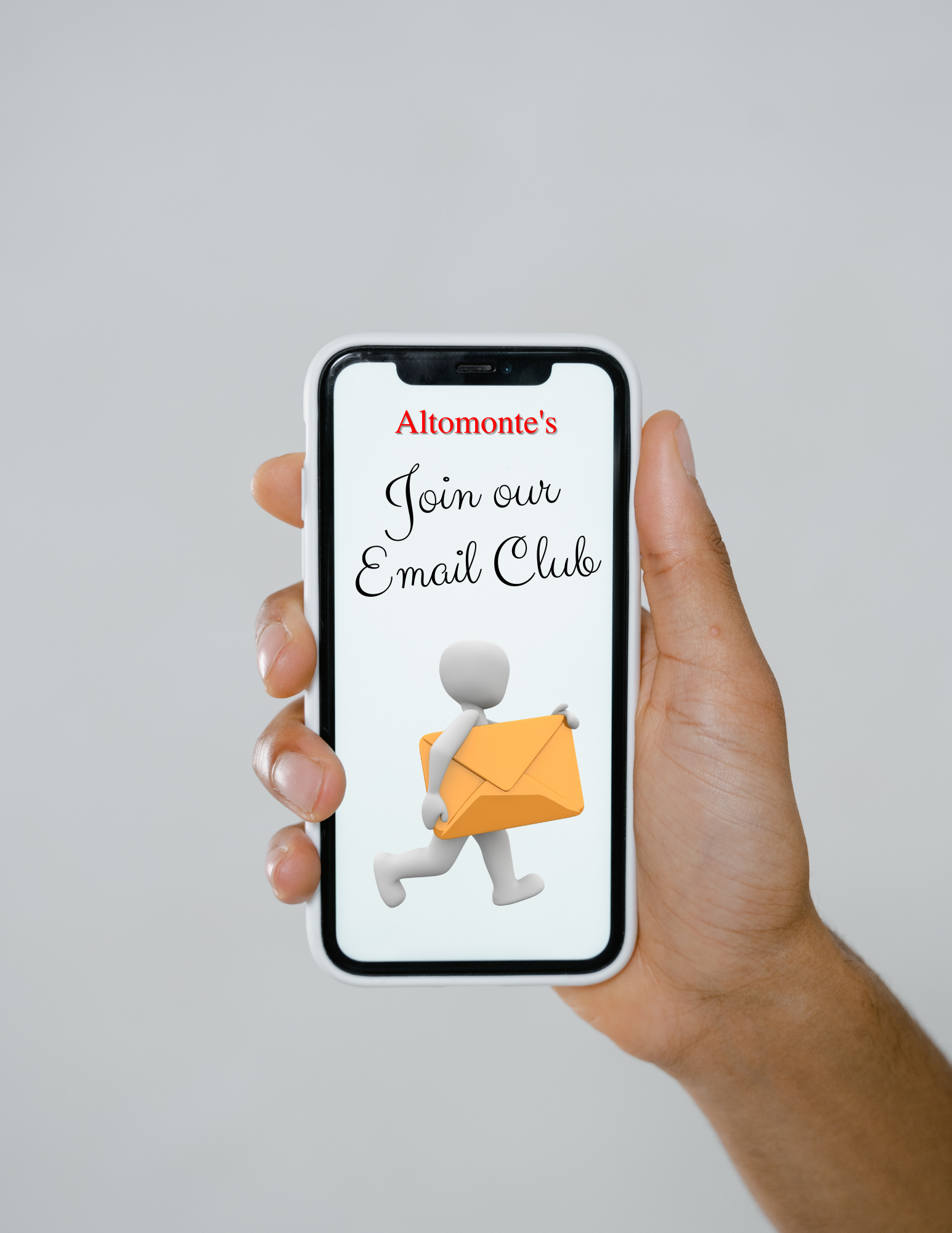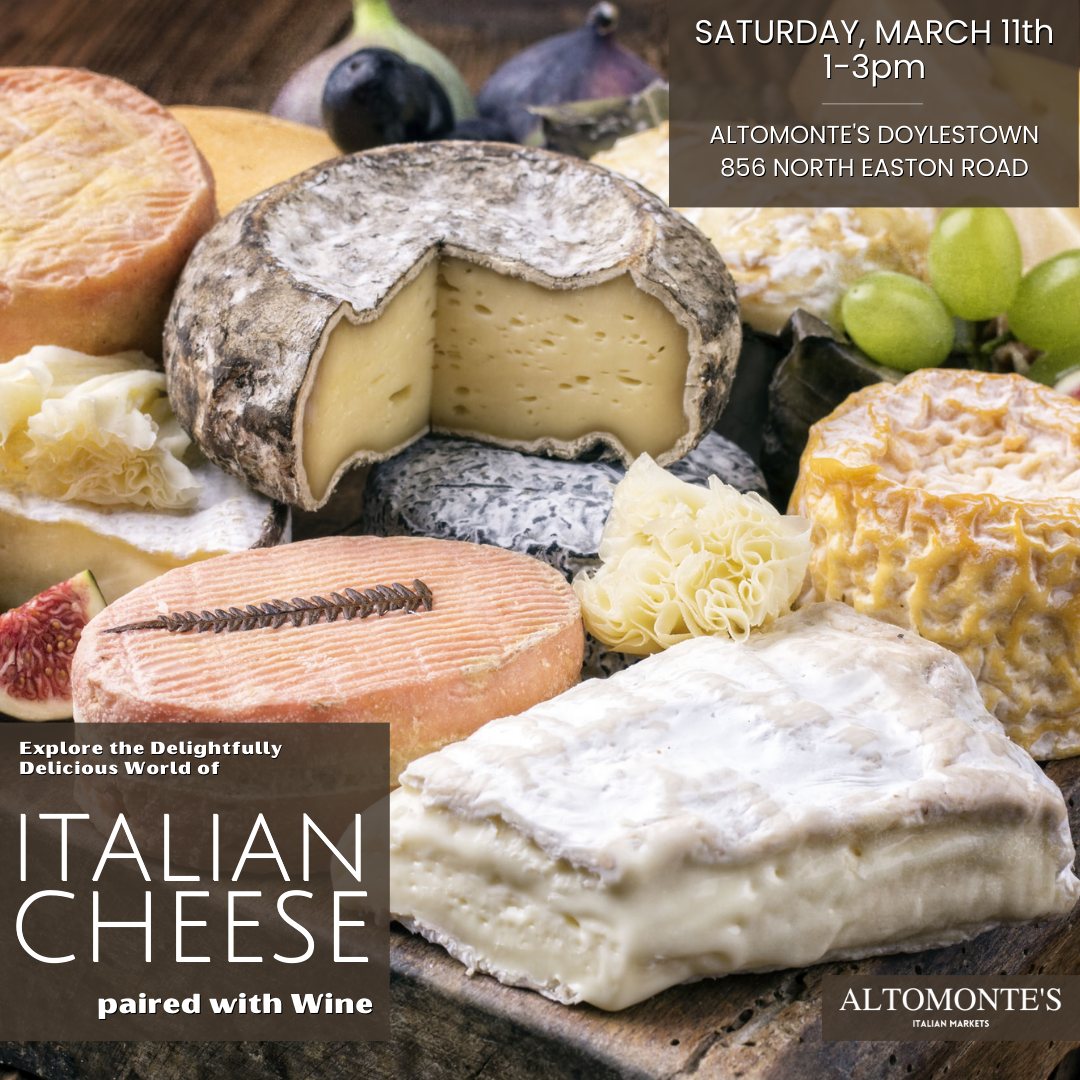 A Cut Above the Rest
We started as a meat market, and to this day we still offer the best meats in Bucks County—excellent cuts served in traditional old-world style.
View Menu
Sign up for

The Grazie Club

Earn points, rewards, and more.

Sign Up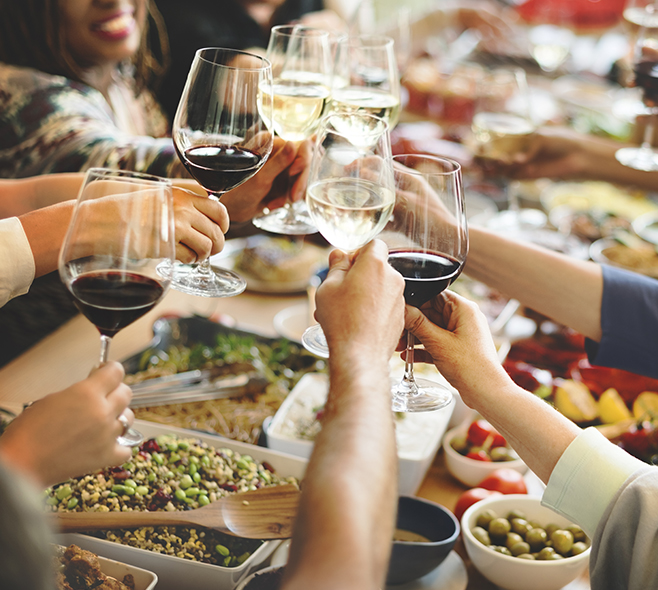 Bringing you closer to Italy

and Each Other
Food unites us.
We find happiness in gathering for meals and discover common ground in delicious dishes. Just as you love to share this joy with friends and family, we delight in sharing the foods from our heritage with you. At Altomonte's, we're excited to offer you the finest in authentic Italian groceries, quick bites, freshly prepared foods, top-tier delicatessen items, organic and gluten free foods, high-quality butchered meats, scratch-baked goods, and more—all handcrafted using old-world culinary traditions that are still regarded the best in the world.
Mike Grispino

Maria Nappi

Vince Grispino

Frances Grispino